Tax season can be a chaotic and stressful time for many Americans. Each year you likely have a laundry list of questions and don't always know where to begin to turn in order to get the answers you need. In your search you may come across a variety of options for tax professionals, but how do you know you're choosing the right one for your tax preparation needs?
To put it shortly, CPAs are tax preparers, but all tax preparers aren't necessarily CPAs. We're here to help differentiate a CPA vs tax preparer below.
CPA Qualifications & Standards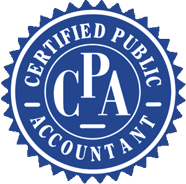 When you partner with a CPA, there are boards, rules, and licensing standards which are required for your local accounting professional to meet. Certified public accountants are regulated by each state's Board of Accountancy. The Board of Accountancy sets the standards for certified public accountants and issues licensure for the state.
CPAs are also subject to rules of professional conduct set and enforced by a state's Board of Public Accountancy, such as:
CPAs may not undertake engagements that they do not have the professional competency to perform
CPAs must adhere to professional standards issued by the AICPA
CPAs must respond to client requests for copies of tax returns or other information within a reasonable amount of time (or the Board can take action against the CPA)
A CPA must complete 40 hours of continuing professional education each year
A CPA shall not commit any act that reflects adversely on that person's fitness to engage in the public of public accountancy, including but not limited to fraud, gross negligence, fiscal dishonesty, repeated failure to repeatedly respond to a client's inquiry
To be licensed a CPA has to undergo testing, meet certain education requirements, work under another CPA for at least two years, receive a background check (and recently fingerprinting), and renew their license each year.
Complaints can be filed against a CPA
How a Tax Preparer Differs
Do you know who is doing your taxes? A tax preparer is not bound to the rules, certifications, and standards that are expected of certified public accountants. They do not need to have any specific education or qualification requirements in order to be paid to file tax returns, nor are they required to seek any type of licensing. Their main focus is on tax preparation. A tax preparer professional's job is to calculate, prepare, and file income tax returns on behalf of their clientele. The tax relationships with non-credentialed tax preparers are often seasonal on an as needed basis.
Why Choose a CPA?
By choosing to work with a certified public accountant for your tax preparation needs, you can rest easy knowing that you or your business will be well taken care of due to the level of education and certification that is required. Because of the seasonal nature of non-credentialed tax preparers, they do not have the opportunity to get to know you and your business on a deeper level. Ultimately, tax preparation should be integrated with a larger tax planning strategy to ensure a greater reduction of your tax liability, and a CPA is well-equipped to help you achieve that.
When you partner with the CPAs at MB Group, you get the expertise of a team of professionals who can handle all of your tax related needs. Our tax planning, tax preparation, accounting, and consulting services will save you valuable time, money, and stress so you can focus on whats important.
Related Posts