As an attorney, you specialize in matters of the law and in helping protect the rights of your clients. And while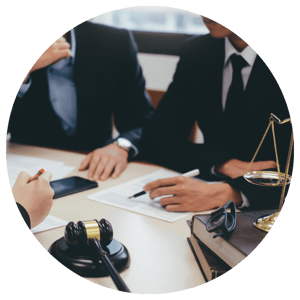 you may have been able to handle your bookkeeping and accounting in the beginning, the growth of your firm necessitates the implementation of more strategic solutions, such as outsourced bookkeeping.
At the MB Group, we are a team of experienced accountants and bookkeepers who specialize in helping law firms of all sizes achieve strategic and efficient growth. We offer a full scope of law firm bookkeeping and accounting solutions, including:
Invoicing and tracking hours for client billing
Managing cash flow
Payroll and salaries
Financial statement creation
Trust accounting
And more
No matter your needs or goal, the MB Group can tailor a bookkeeping or accounting package to help drive efficient growth. Let's look at some of the most common reasons why law firms should outsource their bookkeeping.
Access the Experienced Accounting Professionals You Deserve
We employ a team of seasoned accountants and bookkeepers who have specific industry expertise. Whether it's general accounting, payroll, or taxes, our law firm accountants have an in-depth understanding of the business, which adds a new meaning to the numbers. We can leverage this exclusive expertise to offer superior insight and provide more value based on our industry in sight.
Specifically, our accountants can help ensure you meet all tax and reporting requirements for local, state, and federal governments. We make it our business to stay up to date on the latest regulatory requirements, so you can focus on growing your practice and meeting your clients' needs.
Outsourcing Accounting and Bookkeeping Saves Money
When you partner with us for outsourced accounting and bookkeeping, our goal will be to make an immediate impact in generating savings. For starters, if you're attempting to do the bookkeeping or accounting for your firm yourself, none of the time you spend on taxes, bookkeeping, accounts receivable, or accounts payable are billable. By partnering with the MB Group, you will immediately be able to do more work that is billable.
At the same time, we offer business insight and industry intelligence to create a competitive advantage. For example, we are often able to suggest a more favorable business structure to significantly increase your eligible tax deductions. While we regularly suggest automated invoicing systems to expedite client payments, there are a number of ways we work with law firms to generate immediate savings and help drive efficient business growth.
Skip Time and Costs Associated with Hiring
Outsourcing your firm's bookkeeping is one of the most cost-effective ways of ensuring you have access to the services you need. The more expensive and timely alternative is taking the accounting in-house and hiring a full-time or part-time accountant or bookkeeper. For starters, the process of the job posting, recruiting, and hiring of an applicant takes time and resources.
These are resources that could be better dedicated to more profit-driving activities. However, the true cost-savings associated with outsourcing your bookkeeping are from salaries. According to U.S. News & World Report, the average accountant's salary is around $71,550, but if you're looking for the top talent you should expect to shell out a competitive salary of around $94,340. In contrast, outsourcing your accounting pales in comparison and costs a fraction of either salary.
Get Valuable Financial Advice
In addition to accounting and bookkeeping services, your accountant can function as a financial advisor and offer solutions to increase efficiency. Because we work with a number of law firms, we can often propose solutions that are working with other firms. Whether it's about accounting software, taxation, or, any other matter, you'll have an experienced accountant and financial advisor in your corner helping you navigate the best path forward.
Make Better Business Decisions with More Precision
As the owner of a law firm or practice, you are faced with several important decisions daily. For example, does it make sense to purchase new office equipment today or wait until next year? Are there tax implications that you should consider before the purchase? By working with an accountant, we will function as an extended arm of your business. As such, we will provide higher quality accounting information faster and more efficiently, so you will have the confidence and strategic vision to make the best decisions. Specifically, we will offer guidance based on tax laws and help you optimize every purchase and decision.
Contact the MB Group for Outsourced Law Firm Accounting
We are proud to be the top law firm accounting firm offering a range of solutions that revolve around the needs of your business. In addition to bill payment, HR, payroll, and tax services, we also provide:
Reporting Services
GAAP Accounting
Tax Management Services
Tax Planning and Preparation
Bookkeeping Services
Cloud Services
Trust Accounting Services
Most importantly, with outsourced accounting services from the MB Group, you'll only pay for what you need and none of the stuff you don't. Contact us today to get started.