For millions of Americans, April 15th (tax day) brings confusion and anxiety. Dealing with the IRS can be unnerving, and even a minor error on your tax return can mean audits, fees, and penalties. If you want to avoid unnecessary stress this year, these simple tax planning strategies can help make the process quick and stress-free:
1. Start early: Don't wait until April to prep for tax filings
Too many people wait until the last minute to prepare for their taxes. This makes filing your tax return more difficult. Being unprepared causes delays and omissions that cost taxpayers time and money. Missing receipts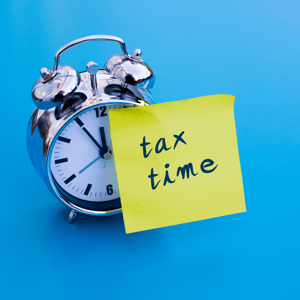 , forgotten events, and incomplete records can create chaos. Tax planning should be a year-round event and not just something to think about in April. You should set aside a time every month to review your tax status. Here are a few items to consider:
For individuals:
Is your withholding status appropriate? If you do not have enough taxes taken from your check every week, you may have a large tax bill due in April.
Have you made too few or too many contributions to your retirement fund? There are annual limits for retirement contributions. You may want to increase your contributions if you are under the limit, or consider other types of funds if you have reached the limit.
For business owners:
Should you make quarterly estimated payments? Anyone who has income from self-employment, business earnings, rents, interest, or dividends should consult a tax professional about making quarterly tax payments to avoid a large tax bill at the end of the year.
Have you met the required tax obligations for businesses? Special considerations for businesses include things like payroll taxes, sales tax reporting, and information reporting. Each state has its own set of rules, so it is best to check with your tax accountant to make sure you are aware of federal and state-specific requirements.
2. Get organized: Good record keeping saves time and money
Do you scramble to gather your records every tax season? It is easy to miss out on deductions or credits because you do not have the documents you need. Worse, if you are audited, not having proper documentation can spell trouble. It is best practice to organize your tax records as you receive them.
Some simple ways to stay organized are:
Create one place for all your tax-related documents. This may include receipts, correspondence from the IRS, previous years' returns, 1099s, and records of tax payments you've made. Whether you use a paper or electronic system, staying organized now can help to avoid chaos later.
Explore software and apps that can help you track your finances. Need help keeping track of your sales? Looking for a way to calculate your gas mileage on the go? Want a fast way to scan and store your receipts? There are plenty of great programs that can help you streamline the record-keeping process. If you need help to choose the right program, start by asking your bank, colleagues, or tax planning accountant for advice and referrals.
3. Keep in touch: Partner with your tax planning accountant
The best tax preparation strategy is to form a relationship with a reputable tax planning accountant. A good relationship involves an ongoing conversation about your tax situation. Your tax accountant should:
Be available to talk with you about your taxes year-round.
Offer advice on how to prepare for taxes and suggest programs that can streamline the process.
Ask questions and engage in discussions that reveal the best tax saving strategies for you.
Educate you about your tax issues and provide resources for further guidance.
Are you ready for tax season?
Hopefully, you have picked up a few helpful tips that can help you better prepare for tax season. But if you are still uncertain, MB Group can help. We offer comprehensive tax planning services for individuals and businesses. Let our expertise help take the stress out of tax season this year. Call us today to talk about your taxes. No problem is too complex, and no question is off-limits. Partner with MB Group and find out why our clients trust us with all their accounting needs.