Today, a stunning 3.2 million people in the United States and 1.3 million internationally utilize QuickBooks Online (QBO). This very popular online accounting software package is designed to primarily help small and medium-sized businesses manage their finances. And if you're considering using QuickBooks Online, it's imperative you have an in-depth understanding of the pros and cons of this solution. Let's take a closer look at the pros and cons of QuickBooks Online.
Why Choose QuickBooks Online?
In general, QuickBooks Online offers business owners with a convenient remote access accounting option. You,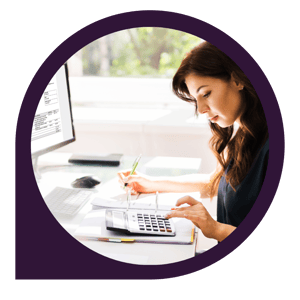 your accountant, and bookkeeper can essentially log into the web-based platform from anywhere. And this online functionality can be a major benefit for service-based businesses. A few key advantages this software may offer are listed below:
Automatically send statements and invoices
Quickly share access to data with accountants and employees
No backups required
Around-the-clock assistance available
Simplified app sync with nightly downloads.
Automatically send report
Credit card and bank transactions download nightly
Utilize a first-in-first-out method of tracking inventory


Watch Out for These Potential QBO Bank Feed Pitfalls
While QBO offers a number of enticing benefits, users have consistently reported several issues associated with the bank feeds feature. Here are some of the most common pitfalls of the bank feeds and quick-fix solutions you may be able to implement.
QuickBooks Online establishes rules for every transaction that may not or may be correct. Make sure you're aware of this when "accepting" transactions.
If you want to remove a bank feed transaction, it shouldn't be deleted. Instead, it should be excluded. Deleting a transaction will make it continue showing up as a transaction to add to your register.
When you activate the bank feed, QBO will pull in all available transactions, including those from previous years. In doing so, you will need to exclude those transactions that have already been reconciled the previous year.
When you initiate payments and transfers between accounts that are synchronized with the bank feeds, it will create duplicate transactions. You should only accept one side while excluding the other.
When QBO can't determine if a match exists, deposits and customer payments will automatically be booked to the "Uncategorized Asset" account. For instance, if you deposit multiple checks together, it doesn't have the ability to understand the transaction and will send this deposit to the "Uncategorized Asset" account. To avoid this, make sure you regularly review this account and ensure payments are correctly recorded. It's best to review this account monthly to reclassify improper entries.
While smart, QBO can create counterintuitive rules. And if you fail to pay attention to these rules, QBO can easily prefill a payment to a vendor based on a previous entry. To avoid this, make sure to ensure every account that is prefilled is right before accepting the transaction.


Beware These QBO Bank Reconciliation Issues
Bank reconciliation is a critical function. And while QBO offers this functionality, it's very cumbersome and can lead to more problems than it looks to solve. Consider the following:
QBO doesn't offer the functionality to record a payment to accounts payable or accounts receivable.
The ability to scroll through your bank register is complicated due to pagination. Instead of naturally scrolling, you will need to click through pages.
In QBO, you can delete transactions that have already been reconciled. When you do, it changes the ending balance. It then adds the transaction back to your bank feed, which is to be reconciled. Make sure you are extremely careful and use caution when changing previous period reconciliations.


Use Caution When Working with the General Ledger
Here are a couple common general ledger issues that customers have reported as problematic.
Anytime you create a new account, beware of the fields auto populating with incorrect information. You should always ensure the right account type, information, and name are assigned.
If you print your ledger that has a lot of transactions, make sure information isn't cut off. When printing, it will only report a limited number of line items.


Don't Fall Victim to QBO Sales Tax Issues
Ensuring Uncle Sam receives his fair due is paramount! And while QBO offers features to help you do so, it can also create a whirlwind of confusion and trouble. Beware of the following:
While sales tax liability is usually calculated on the cash basis, the majority of businesses accounting are on accrual basis. With QBO, you need to set your company file to be on a cash basis to have the sales tax liability print properly. Moving forward, anytime you need your financial statements on an accrual basis, you will need to choose that while they are being prepared.
Your sales tax payments can't be changed in QBO. After you record a sales tax payment, the only way to change it is to delete it and re-enter it. And this can lead to a host of problems, especially if the original incorrect entry has already been reconciled.