Do you want to project how your business will grow? Are you planning to ask for funding from a bank or investor? Having a hard time budgeting for long-term expenses? Creating an accurate financial forecast can help you address each of these common situations. By understanding how your business has performed in the past and exploring current industry trends, you will be better prepared to make smart and efficient choices for your company. The business accountants at MB Group are experts at helping business owners create comprehensive financial forecasts that empower them to reach their goals.
What is financial forecasting?
In the simplest terms, financial forecasting is the process of estimating how a business will grow and perform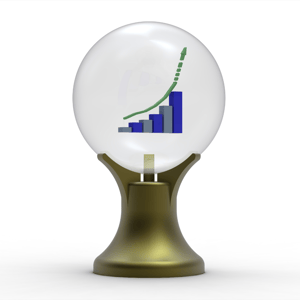 over time. For many business owners, financial forecasting sounds difficult. And without the right expertise, it can be. That's why it is important to maintain good record-keeping practices and to partner with a reputable accounting firm, so your business is always ready to take the next step.
What is the relationship between budgeting and planning?
Financial forecasting is not the same thing as budgeting. But an accurate forecast can help you create a budget for your near-term and long-term needs. For instance, if you project that your business will grow by 10% over the next 5 years, then you can also expect to increase your workforce accordingly. This growth may mean you need more money for payroll expenses, a larger space for your new employees, and even a larger human resources department. By being prepared ahead of time, you will transition seamlessly instead of scrambling to adjust.
How to create a financial forecast
No matter your size or industry, every financial forecast involves the same basic steps: records review, industry research, and pro forma statement prep.
Records review
The first step is to gather all the financial records you have for your business. This may include accounting ledgers, tax filings, payroll records, inventory lists, cash flow statements, and any other financial data relevant to running your business. A business accountant can review and analyze your history and determine how that will affect your future.
Industry research
For the most accurate financial forecast, it is best to look not only at your own history but also to research the performance of other businesses in your industry. This can offer key insights about consumer trends and will expose emerging patterns that may influence your decisions. This step is especially important if you are looking for funding. You will need to present this data to a bank or investor if you want them to approve your financing. It is best to leave this step to an experienced professional who can gather the most relevant data in a timely manner.
Pro forma statements
After you have reviewed your records and researched the current market data, you are ready to prepare pro forma statements. These are financial statements you prepare in advance. You use business records and industry research to model an expected future condition and create a financial plan based on that expectation.
There are three pro forma statements found in every financial forecast:
pro forma income statements
pro forma balance sheets
pro forma cash flow statements
These have the same form and function of the common accounting statements you are already familiar with. The difference is, they are prepared in advance and based on your predictive model.
Can MB Group help my business create a financial forecast?
Yes. At MB Group, we love helping our clients create accurate financial forecasts that enable them to budget properly, get the funding they need, and set them up for a healthy financial future. Our team has the experience and knowledge you need to ensure your business runs smoothly today and tomorrow. Contact our team to get started today.